At a Glance:
Screening protocols are in place in all of our offices to help detect and direct potential COVID-19 cases.

We are utilizing video visits when possible.

Wearing a mask in public and social distancing when possible will help slow the spread.
Mask Up to Slow the Spread!
With Covid-19 numbers rising, social distancing and wearing a mask while out in public are the best ways to help slow the spread. Because people can spread Coronavirus before having any symptoms, these guidelines help limit the opportunities to come in contact with infected people or contaminated surfaces outside your home.
FACE MASKS ARE REQUIRED! For everyone's health and safety: All visitors (ages 2+) must wear a face mask AT ALL TIMES while inside Pediatric Care Specialists. 
Physicals: For older kids, sports practices are back on. This means its time to schedule those sports physicals or annual well-checks.
If you've missed a well-child check, or your child is heading back to school in the fall, now is the perfect time to schedule a visit.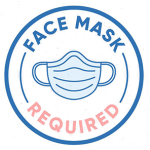 We'll continue to take these precautions to keep every visit safe:
For children with illnesses, medication checks or other concerns, we continue to offer both telehealth visits and in person visits, as indicated. While you may be asked to schedule a telehealth visit first, if your provider feels that an in-person assessment would be best, we will help you arrange that. 
ALL sick children will continue to use a separate entrance and designated examination rooms to minimize any risk of spreading infections. 
When necessary, we are screening sick patients with rapid COVID testing outside before allowing them into our office. NO patient with a positive COVID result will be allowed into any of our offices.
We're asking one parent to bring just the child being seen.  Exceptions are being made for newborn visit or visits with multiple siblings being seen at once.
We are thoroughly sanitizing between appointments and between well/sick blocks and have removed toys from waiting rooms.
We are screening our staff for illness and taking temperature checks at the beginning of each shift.
Our staff are wearing masks at all times and protective eyewear or face shields during sick visits as an extra precaution against spreading viruses.
We require that you and your child also wear a mask while in any of our buildings.
We're honored to continue being your choice for caring for your children. As the risk level continues to change, we'll keep you updated on how those changes may impact your next visit.
What if I suspect my child is ill with COVID-19?
If you suspect your child has come into contact with Coronavirus, please call us first!
Currently, the risk for serious illness in children from COVID-19 is extremely low and most cases can be treated at home. The majority of people may feel like they have a common cold or have no symptoms at all. If you suspect your child is ill, you can limit the spread Coronavirus in our communities by calling us first to discuss next steps.
Additional Resources:
Center of Disease Control: Coronavirus